Massage Therapy at Bryant Family Chiropractic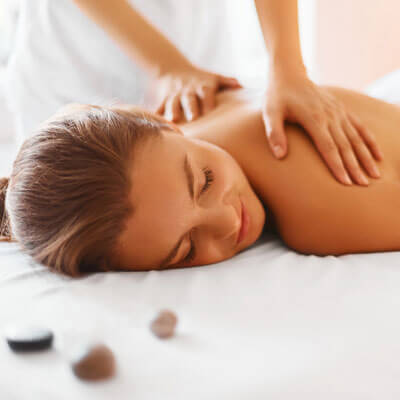 At Bryant Family Chiropractic, we believe that chiropractic care and therapeutic massage complement each other incredibly well. Our goal is to help people move, feel, and be well and this will bring a quality option for individuals seeking additional natural health options. Our licensed massage therapist will be able to coordinate with the doctor on any specific needs you may have, bringing you a curated session.
Swedish, Deep Tissue or Hot Stone Massage
We offer 30, 60, and 90 minute sessions.
Raindrop Therapy
We offer a 60 minute session that uses the application of Young Living Essential Oils and focuses on the spine and feet with some concentration on the neck and shoulders
This therapy is a powerful, non-invasive tool for assisting the body in correcting defects in the curvature of the spine. During the years that it has been practiced, Raindrop Technique has resolved health and eliminated the need for surgery for many people. Developed and taught by Young Living Essential Oils, our massage clients may experience a number of healing benefits.
The following oils are utilized during the process:
Valor – Calming and balancing
Valor is an empowering blend that promotes feelings of strength, courage and protection. It has been found to support energy alignment in the body.
Oregano – Highly purifying
Oregano is one of the most versatile and powerful oils. It contains immune strengthening and antioxidant properties and also supports the respiratory system.
Thyme – Powerful and penetrating
As a dietary supplement it's one of the strongest antioxidant known. It supports respiratory, immune, nervous, digestive and other systems of the body.
Basil – Balancing
Inhaling can restore mental alertness and also restore sense of smell. Also used for fatigue and muscle soreness.
Cypress – Circulation support
Cypress helps to restore feelings of security and stability. It also supports the circulatory system.
Marjoram – Muscular tension
This soothing oil has a warming effect on the body and mind. It helps soothe muscles after exercise and also nervous tension.
Wintergreen – Soothes tension
Contains methyl salicylate and is soothing in massage for head and muscle tension.
Aroma Seiz – Relaxing and soothing
This oil helps provide soothing comfort. It is recommended to be used after exercise or a stressful day. Great to help massage away life's discomforts.
Peppermint – Released tension
One of the oldest and most highly regarded herbs for digestion and has been traditionally used to ease tension.
Schedule Your Session Today
Contact us today to experience how chiropractic care and therapeutic massage complement each other to help you feel better!
---
Massage Therapy Bryant AR | (501) 847-0868